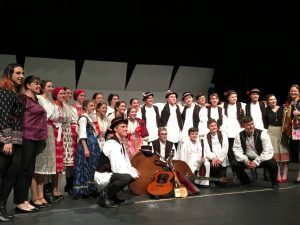 Youth dance group Club Stepinac, founded in 1988, is a part of the Croatian School "Cardinal Stepinac". Its primary goal is to cultivate traditional Croatian culture through dances and songs that are passed on to younger generations. Another goal of Club Stepinac is to serve a gathering place for our students who completed their elementary school education as well as to represent Croatian community and parish of St. Jerome at various public events and performances.
Club Stepinac performed at many public events, gatherings, festivals, anniversaries and various other occasions such as Croatian Canadian Folklore Festival, Five Cardinals Festival, Croatian American Days at Chicago's Daley, Christmas Around the World at Chicago's Museum of Science and Industry, Chicago's Festival of Lights, International Folklore Festival in Zagreb, Croatia, Đakovački vezovi in Đakovo, Croatia, Folklore Festival in Split, Croatia, and other.
This reputable youth dance group has proven its quality in many cities across United States, Canada, Croatia and Bosnia and Herzegovina, and we are proud to have them carry the name of our school.
Here are a just couple of the many wonderful performances of our Club Stepinac!